Description
Buy Boldenone 100 – Maxtreme (Bold-One)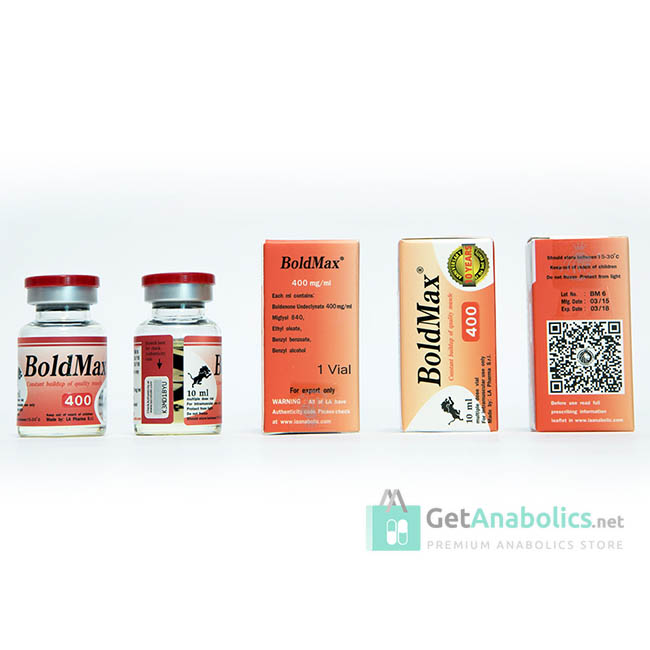 For those who is looking for Boldenone 100 and wondering where to buy Boldenone 100 from Maxtreme legaly we offer Bold-One as the best choice for real bodybuilders.
From now on a large variety of injectable steroids as well as oral steroids and post cycle therapy from Maxtreme can be bought on GetAnabolics. We glad to introduce the new Boldenone 100 from Maxtreme.
All the products we have to offer are made of authentic, high quality compounds and have a single goal: to help people gain muscular mass, overall strength, to burn fat and assist them on the path to physical perfection. In order to create a constructive and civilized connection with our customers we will make maximum efforts to assure a high-quality service and will approach every person that address our store with courtesy and respect.
Building and maintaining a gorgeous body require a combination of methods. A proper diet comes first in the list of vital components needed by the body. Secondly, make sure you always buy & use legal steroids online not only to avoid conflict with the law but more importantly, to avoid health complications.
GetAnabolics.Biz is the online steroid supplier specially created and dedicated to provide each athlete and bodybuilder with best anabolic steroids at discount prices. We've chosen most reliable brands to collaborate with in order to ensure safe, genuine and top-notch steroids to our customers.
Shipping steroids very safely is the main concern for the delivery of steroids worldwide. Our discreet shipping guarantees that no one else knows that you buy steroids online.
More Boldenone 100 Maxtreme Information
1 box of 10 ampoules, each amp contains 100 mg Boldenone Undecylenate
Pharmaceutical Name: Boldenone Undecylenate
Molecular weight of base: 286.4132
Molecular weight of ester: 186.2936 (undecylic acid, 11 carbons)
Chemical structure: 1,4-androstadiene-3-one,17b-ol
Active Life: 14-16 days
Anabolic/Androgenic Ratio (Range): 100:50
Detection Time: 4-5 Months
Boldenone undecylenate is a highly anabolic and moderately androgenic steroid. Its primary use is in veterinary medicine most commonly with horses, but has become a favourite of strength athletes and bodybuilders. There is very little aromatization related to the compound with a very limited amount of water retention experienced by most users. Another attractive quality of the compound is the ensuing increase in appetite often reported by users when running this steroid and will often be included in "bulking" cycles for this purpose. Boldenone undecylenate also increases hemaglobin and hematocrit (the number of red blood cells and the percentage of red blood cells)[1], thus causing greater "pumps" while working out. Although this is true of nearly all anabolic steroids the effects are reportedly more pronounced with boldenone undecylenate. An improvement in vascularity should also be experienced due these increases, if body fat is at a low enough level.
Athletes other than bodybuilders or those concerned primarily with strength may also benefit from boldenone undecylenate. This is due to the fact that the compound stimulates the release of erythropoietin, commonly referred to as EPO, in the kidneys. Erythropoeitin signals the body to increase the production of erythrocytes (red blood cells). Erythrocytes are the carrier of oxygen in the body and therefore if their concentration is increased in the body, a higher maximal oxygen capacity is produced and performance can be improved due to a delay in the on set of fatigue, including the build up of lactic acid. While the results would not be overly dramatic, a user should definitely notice an improvement all things being equal.
Use/Dosing
Due to the compounds active life, injections are usually conducted twice per week to maintain stable blood levels although some users prefer injecting only once per week. Most users anecdotally report that the minimum dose for most males is between 300mg to 400mg to see any substantial effects from the drug. Women of course will see results at much lower doses, usually ranging from 50-150mg per week for less experienced users.
Like most compounds, the majority of users prefer to stack boldenone undecylenate with testosterone. This should negate any libido uses that a user may encounter, as well as providing a potent combination that should result in a dramatic increase in lean body mass. Due to the lack of liver toxicity associated with the compound, other compounds that can raise liver values (such as 17 alpha alkylated steroids) can be run with boldenone undecylenate without any further complications.
Many users believe that boldenone undecylenate can be used both in "bulking" cycles and "cutting" cycles, as the lack of water retention associated with it's use and improvement in vascularity while on the compound can help to show improvement in definition while a user is reducing his or her body fat. At the same time, the compound has a profound effect on lean body mass and the results can be dramatic when run with a diet high in protein and calories, along with a proper training regimen.
Not considered to be a rapid mass builder in comparison to other anabolic steroids, boldenone undecylenate will add quality lean muscle consistently throughout a cycle. Anecdotally, users have reported that cycles of at least ten to twelve weeks running boldenone undecylenate are needed to see the full effects of the compound.
Risks/Side Effects
For the most part, problems such as gynecomastia and a high degree of water/salt retention are nearly unheard of with this compound. Boldenone undecylenate rate of estrogen conversion is approximately fifty percent of that of testosterone[2,3]. As well, since boldenone undecylenate is not hepatoxic to any serious degree it can be used for long periods of time during extensive cycles. Some side effects that may be experienced are acne and increased body-hair growth, as well as the usual virilizing effects in women, however these will likely be at a far reduced level than other compounds[3]. If a user does not stack the compound with testosterone they may suffer sexual side effects, as is the case with the majority of anabolic steroids.
A user's lipid profile will be negatively affected, as with any steroid, but not to the same degree as with a strong androgen. Boldenone undecylenate can convert to DHN (a very mild androgen in comparison to DHT) via 5- alpha reductase, however only a small amount will actually be converted meaning that the compound it is not hard on the hair line[4,5]. However, like most other compounds if you are prone to male pattern baldness, boldenone undecylenate can speed or make the condition more pronounced. Prostate problems are also unlikely to be experienced.
The compounds active life is 14-16 days, however boldenone undecylenate does produce detectable metabolites that will appear in a users urine for several months after administration of the drug has ceased(2). This makes the compound less than ideal if drug testing is a concern.
Read more
ALL ABOUT PROVIRON (MESTEROLONE)
WHAT SHOULD BE THE DURATION OF THE COURSE OF STEROIDS?
CREATINE ON A COURSE OF STEROIDS